This year, tyres were once again screeching on Bridgestone's European Proving Ground. 16 editors-inchief from 15 countries came to Bridgestone's test facility in Aprilia, near Rome, to subject different car models including the new BMW 3 Series, the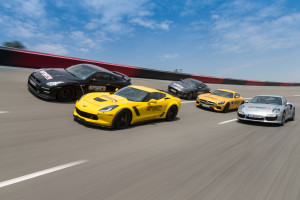 Mercedes AMG GTS and the Chevrolet Corvette Z06, to an endurance test. This time, journalists from China, Brazil, Mexico, Spain, Italy, Portugal, Romania, Bulgaria, Croatia, Sweden, Slovenia, Hungary, Czech Republic, Germany and Turkey sat behind the wheels of the high performance vehicles. The International Test Drive, organised in collaboration with Auto Motor und Sport magazine, took place at an outside temperature of 37°C. In addition to the new BMW 3 Series and the Mercedes C400, the experts had the opportunity to test five premium sports cars, all with more than 500 HP. The Nissan GT-R Track Edition, the Porsche 911 Turbo, the Mercedes AMG GTS, the Jaguar F-Type R AWD Coupé and the Chevrolet Corvette Z06 were all impressive.
"I was surprised by the Corvette which is hard to drive! It keeps you busy all the time, but somehow it all fits together," says Kristijan Ticak of Auto Motor Sport Croatia.
Pedro Silva is particularly impressed by the German representative: "I love positioning the Porsche 911 Turbo with its rear engine handling on the circuit," explains the editor-in-chief of Auto Hoje, Portugal. He thus prefers the objectively fastest test car on the track.
However, pure speed was not the only decisive factor for the editors.
Jens Dralle of Auto Motor und Sport Germany, for example, goes for a middle-class car: "My favourite is the Nissan: it's both heavy and dynamic, both reserved and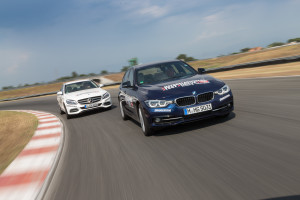 playful."
Top speed on Europe's most modern tyre test track
Bridgestone has been using the 114 hectare European Proving Ground since June 2004 to comprehensively test some of the most exciting innovations coming from its closely located European Technical Center. The tests conducted by the journalists took place on the wet and dry handling tracks. The complete track covers the entire range of very high, medium and low speed areas as well as different radiuses and slopes. The tracks are normally used to check all handling performance characteristics of tyres, including lateral stability, steering precision, load transfer and grip in different weather conditions. For other tests, a high-speed oval, various circular tracks and rough road tracks are available in Aprilia. The construction was initially part of a major and still on-going investment plan in research, manufacturing and marketing, and is impressive proof of the world's largest tyre manufacturer to expand business in Europe. (media release)